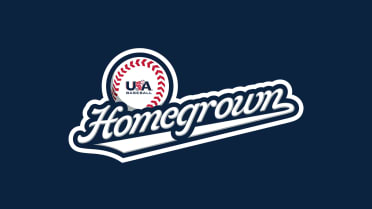 USA BASEBALL HOMEGROWN PROGRAM
---
USA Baseball's Homegrown program provides families with elementary-aged youth from across the United States with the unique opportunity to learn from current and former USA Baseball national team athletes, as well as current and former Major League Baseball players alike, in a fun and interactive community-based setting. This program will allow these hometown heroes the opportunity to share their experiences playing For Glory with the many children who may one day hope to be a part of Our Pastime's Future.
Through its two initiatives, the Homegrown Clinics and Homegrown Connections, the Homegrown program allows the Team USA alumni to give back to their hometowns, communities or youth-based organizations that hold personal meaning to them and supported their overall personal or professional development during the course of their careers.
---
INITIATIVES

HOMEGROWN CLINICS
USA Baseball Homegrown Clinics are in-person baseball events for families with elementary-aged youth. Participants will be given a chance to get outside to learn and play America's pastime alongside a Team USA alum.

HOMEGROWN CONNECTIONS
USA Baseball Homegrown Connections is a virtual, webinar-like experience for families with elementary-aged youth to get the opportunity to meet and connect with USA Baseball alumni from their hometown or community. Students and families with elementary-aged youth will get to know these hometown heroes through a live event that they can participate in from their own homes.
Watch On-Demand:
- Michael Cuddyer (Chesapeake, Va.)
- Albert Almora Jr. (Hialeah, Fla.)
What They're Saying:
"This event has changed my daughter's mind about baseball. She used to only like basketball but now she likes baseball thanks to this event."
"This was one of the BEST zoom programs that I have participated in, very motivational and organized."
"What a great event. During this pandemic it's nice to see USA Baseball find ways to keep our Youth engaged in Athletics."
---
CONTACT
If you are interested in learning more about the Homegrown program, please contact Anthony Cangelosi, Assistant Director of Youth Programs, at AnthonyCangelosi@USABaseball.com.
---
HOMEGROWN CONNECTIONS ON-DEMAND
Albert Almora Jr. - December 8, 2020
Albert Almora Jr. has played on a USA Baseball national team seven times in his career, starting on the 14U National Team in 2007 and most recently as a member the Professional National Team in 2015. In his Team USA career, he won five gold medals before being drafted in the First Round of the MLB Draft by the Chicago Cubs. In his five-year stint with the Cubs, he won a World Series title in 2016. A special thank you goes out to Miami-Dade Public Schools, The School District of Palm Beach County, Boys and Girls Clubs of Miami-Dade, Hope for Miami, 19 Sports Miami, Miami Youth Baseball Association & South Miami Youth Baseball League and the YMCAs of South Florida for making this Homegrown Connection a success.
Michael Cuddyer (Chesapeake, Va.) - November 17, 2020
Michael Cuddyer is a two-time Team USA alumni, playing on the 1996 and 1997 18U National Team before completing a 15-season career in the Major Leagues and earning two All-Star Game selections and a Silver Slugger award. A special thank you goes out to the Chesapeake Public Schools system, the Boys & Girls Club of Southeast Virginia, Joint Base Langley-Eustis, the Children's Hospital of the King's Daughters, Naval Station Norfolk and local YMCA and youth baseball/softball organizations for making this Homegrown Connection a success.