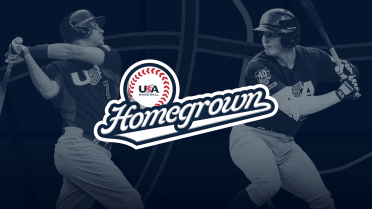 USA BASEBALL HOMEGROWN PROGRAM
---
USA Baseball's Homegrown program provides families with elementary-aged youth from across the United States with the unique opportunity to learn from current and former USA Baseball national team athletes, as well as current and former Major League Baseball players alike, in a fun and interactive community-based setting. This program will allow these hometown heroes the opportunity to share their experiences playing For Glory with the many children who may one day hope to be a part of Our Pastime's Future.
Through its two initiatives, the Homegrown Clinics and Homegrown Connections, the Homegrown program allows the Team USA alumni to give back to their hometowns, communities or youth-based organizations that hold personal meaning to them and supported their overall personal or professional development during the course of their careers.
---
INITIATIVES

HOMEGROWN CLINICS
USA Baseball Homegrown Clinics are in-person baseball events for kids between the ages of 6-12. These clinics introduce youth to the games of baseball and softball with an opportunity to work on the fundamental skills of the game in a fun, non-competitive environment. The clinic will be split into two sessions based on age, 6-9 and 10-12, in order to cater stations and activities to the kids' skill sets. Participants will be given a chance to get outside to learn and play America's pastime alongside a Team USA alum from their hometown.

HOMEGROWN CONNECTIONS
USA Baseball Homegrown Connections is a virtual, webinar-like experience for families with elementary-aged youth to get the opportunity to meet and connect with USA Baseball alumni from their hometown or community. Students and families with elementary-aged youth will get to know these hometown heroes through a live event that they can participate in from their own homes. To watch all Homegrown Connections on-demand, click here.
---
CONTACT
If you are interested in learning more about the Homegrown program, please contact Tyler Collins, Director of Youth Programs, at [email protected].