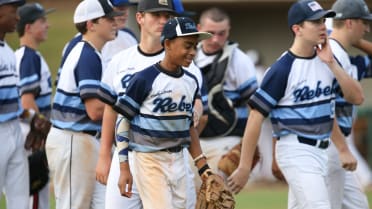 ABOUT THE USA BASEBALL CUPS
The 2020 USA Baseball 14U Cup is an open-invitation tournaments composed of 16 teams held at the USA Baseball National Training Complex in Cary, North Carolina.
Beginning in 2020, USA Baseball will no longer charge processing fees for consumers who make payments using a credit card for its registration. Additionally, USA Baseball's Travel Services department will continue to provide its hotel placement services free of charge for event participants; however, a hotel rebate will no longer be available to teams. For more information on the USA Baseball Travel Services department and its services, read more in the "General Information" section below.
14U Cup
When: July 24-26, 2020
Cost: $1,200 - see the "General Information" section below for deposit requirements.
Eligibility:
Players born May 1, 2005 or later are eligible to compete in the 14U Cup.
---
General Information
Location:
The National Team Championships North Carolina will be held at the USA Baseball National Training Complex in Cary, North Carolina.
Roster Limits:
Rosters should include a minimum of 12 players and no more than 25 players, as well as a maximum of five coaches or adult personnel.
Schedule:
Teams are guaranteed to play four games 14U Cup (weather permitting) and will not play more than six scheduled games.
Cost:
A $300 deposit is due by May 1, 2020, and the remaining team registration fee ($900) is due by July 1. Deposits and fees not submitted by the aforementioned due dates will have their tournament invites rescinded due to the number of teams on the waiting list. Accepted team's deposits are not refundable after May 1 and the full payment is not refundable after July 15.
Hotel Information:
USA Baseball Travel Services is the official housing bureau for all USA Baseball tournaments and its service is available at no cost for all event participants. The Travel Services department works directly with local hotel properties surrounding the event to secure special rates and accommodations for our participants and their families.
The Travel Services department is committed to providing you with outstanding service. If you have questions or concerns regarding lodging during a USA Baseball event, please do not hesitate to reach out to them via phone at (919) 433-9759 or through email at [email protected]. Office hours are Monday-Friday from 9 AM-5 PM ET.
Application Process:
Due to the popularity of this event, USA Baseball will receive many more applications than spaces available for its 14U Cup. It is not first come, first serve. However, the sooner your team applies, the better its chances of acceptance into the tournament.
All completed applications (a completed online registration accompanied by a $300 deposit in the form of either a check received at our offices in Durham, North Carolina, or with a credit card online) submitted by the deadline of will be reviewed and teams will either be accepted or wait-listed in the following days. Deposit checks will not be cashed and credit cards will not be charged until a team is accepted into the tournament.
Once a team has been accepted into the tournament, teams must submit its roster and the remaining registration fee to USA Baseball no later than May 1. Each team will have the right to make a maximum of two (2) roster changes by July 1.
For additional information about the 2020 14U Cup, please email the tournament director, James Vick.