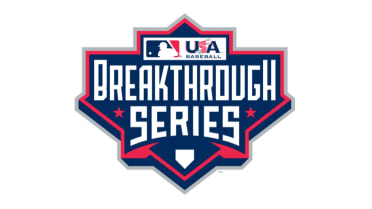 ABOUT THE BREAKTHROUGH SERIES
---
2021 Baseball Breakthrough Series
June 7011, 2021: Vero Beach, Fla. (Jackie Robinson Training Complex)
2021 Breakthrough Series event participants are selected from the 2022 and 2023 graduating classes. Attendees will report the day prior to the event and leave the day following the completion of on-field programming.
---
WHAT IS THE BREAKTHROUGH SERIES?
The Breakthrough Series, established in 2008, is a joint effort on behalf of USA Baseball and Major League Baseball. This unique program focuses on developing the player on and off the field through seminars, mentorship, gameplay, scout evaluations, video coverage and the highest level of instruction all while providing a platform for the players to perform for scouts and collegiate coaches. The events are completely cost-free with USAB covering expenses for the players.
Players in the MLB and USA Baseball diversity pipeline, including the Breakthrough Series, Dream Series and Elite Development Invitational may be offered additional development and instructional opportunities throughout the year. Affording participants touch points at different times during the season will allow for consistent growth opportunities both in competitive and non-competitive settings and will aid in the continued advancement of their life and baseball skills.
For more information on the Breakthrough Series, follow @MLBDevelops.