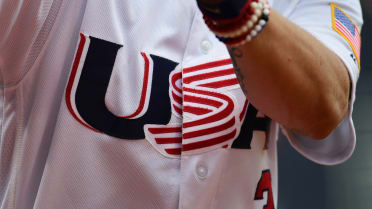 USA BASEBALL EMPLOYMENT
---
Full-time Opportunities
---
Internship/Seasonal Opportunities
There are no internship or seasonal opportunities at this time.
---
Employment Disclaimer:
The United States Baseball Federation Inc., dba USA Baseball, is committed to fostering a diverse environment and providing a secure and welcoming community. We are proud of our rich diversity in backgrounds, experiences and perspectives. All members of our community are expected to uphold our core values of honesty, trustworthiness, respectfulness and professionalism.
It is the policy of USA Baseball to ensure equal employment opportunity without discrimination or harassment on the basis of race, color, national origin, religion or creed, sex, age, pregnancy, disability, marital status, genetic information, sexual orientation, gender, gender identity or expression, veteran or military status or any other characteristic protected by applicable law. Discrimination and unlawful harassment is not tolerated at USA Baseball.
USA Baseball has certain essential job functions that require specific physical and/or cognitive skills that employees must be able to perform with or without a reasonable accommodation.
Qualified applicants must be legally authorized to work in the United States. USA Baseball does not sponsor employment visas.
---
General Information Questions and Answers
Q: Are the internship start and end dates flexible?
A: USA Baseball can typically provide some flexibility with the start date for an internship and will consider adjusting a start date on an individual basis. The end dates for internships are based on USA Baseball's event calendar so there is very limited flexibility on end dates.
Q: Does USA Baseball provide housing for interns?
A: No. USA Baseball does not provide housing for interns. However, USA Baseball will put interns in contact with each other prior to their start date so they can discuss any housing needs they may have. USA Baseball will also assist by providing housing recommendations in the local area.
Q: Where are the internships based?
A: All interns are based at USA Baseball's Executive Offices in Durham, N.C. During the course of their internship, interns should be prepared to travel throughout the country as required for both events and other needs throughout the summer. Select internships may also require international travel and that information will be provided during the initial interview. All internship travel expenses will be covered by USA Baseball.
Q: Can I receive college credit for my internship?
A: USA Baseball will work with interns seeking college credit on an individual basis.