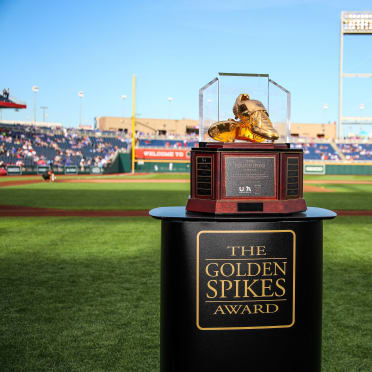 ABOUT THE GOLDEN SPIKES AWARD
Since 1978, USA Baseball has honored the top amateur baseball player in the nation with the Golden Spikes Award. The award is given each year to the player who best exhibits exceptional on-field ability and exemplary sportsmanship.
In 2023, LSU's Dylan Crews won the prestigious award. Past winners also include Terry Francona (1980), Will Clark (1985), Robin Ventura (1988), Jason Varitek (1994), J.D. Drew (1997), Mark Prior (2001), Jered Weaver (2004), Tim Lincecum (2006), David Price (2007), Buster Posey (2008), Stephen Strasburg (2009), Bryce Harper (2010), Mike Zunino (2012), Kris Bryant (2013), A.J. Reed (2014), Andrew Benintendi (2015) Kyle Lewis (2016), Brendan McKay (2017), Andrew Vaughn (2018), Adley Rutschman (2019), Kevin Kopps (2021), and Ivan Melendez (2022).
The 2024 Golden Spikes Award Selection Process
USA Baseball will compile an initial list of more than 150 candidates for the award prior to the start of the 2024 amateur baseball season. The list is based on preseason recommendations and will also include rolling nominations throughout the regular season to ensure that all players are considered. USA Baseball officials will review this list with the Golden Spikes Award Advisory Board and unveil the 2024 Golden Spikes Award 55-player preseason watch list on February 9.
On April 4, USA Baseball and the Golden Spikes Award Advisory Board will select and release the 45-player midseason watch list. On May 20, the Advisory Board will trim the number of players down and USA Baseball will announce the semifinalists. Beginning with the announcement of semifinalists, a ballot will be sent to the Golden Spikes Award voting body consisting of national baseball media, select professional baseball personnel, previous Golden Spikes Award winners, and select USA Baseball staff, totaling a group of over 100 voters. From Monday, May 20–Monday, May 27, the voting body will select the top semifinalists from the ballot to be named as Golden Spikes Award finalists and fan voting will simultaneously be open on GoldenSpikesAward.com. Fans will have the opportunity to vote up to 25 times per day for their favorite semifinalists. Selections made by the Golden Spikes Award voting body will carry a 95% weight of each athlete's total, while fan votes will account for the remaining 5%.
The finalists will then be announced on Wednesday, June 5, and USA Baseball will send a final ballot to the aforementioned voting body that same day. From June 5–June 10, the voting body members may select one finalist from the ballot to be the Golden Spikes Award winner. Fan voting will reopen simultaneously during this time, and fans will be able to submit up to 25 votes per day for their favorite finalist on GoldenSpikesAward.com. Final selections made by the voting body and fans will again carry a 95% and 5% weight of each player's total votes, respectively.
The 2024 USA Baseball Golden Spikes Award will be presented live on ESPN on Sunday, June 23, at 2:30 p.m. ET.
*All dates and times are subject to change*