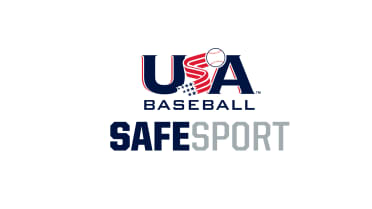 USA BASEBALL SAFESPORT
USA Baseball is passionate about raising awareness of the SafeSport initiative and providing our athletes unparalleled development and competitive opportunity in a safe environment.
The U.S. Center for SafeSport is a 501(c)(3) non-profit focused on preventing physical, emotional and sexual abuse in sport. The Center, initially chartered by the U.S. Olympic Committee, is an independent organization with a nine-member board of directors, including subject-matter experts in abuse prevention, child abuse and sexual assault investigation, ethics compliance and sport administration.
For more information, visit SafeSport.
Athlete Safety Policy
USA Baseball's Athlete Safety Policy for adult participants can be found here. USA Baseball's adult participants include: staff, board of directors, board committees, task force, contracted staff, coaches, scouts, certified athletic trainers and athletes selected for employment or participating in the training and competition under the auspices of USA Baseball.
Ineligible List
USA Baseball maintains a list of individuals who are ineligible to participate with USA Baseball at this time. We encourage amateur baseball organizations to cross-check this list when performing due diligence on potential volunteers or employees. In addition, organizations should perform their own background checks with their own disqualifying factors. This list is updated regularly, and can be found here.
Report Abuse
If you need to report an incident involving emotional, physical or sexual abuse, please click here to do so. Please note, that you may report anonymously, but anonymous reporting may make it difficult for USA Baseball to investigate or properly address allegations. If you are submitting a report please be as accurate and as thorough as possible.
BASE (Baseball Athlete Safety Education)
For more information on what USA Baseball is doing to make baseball a safe environment for kids across the country, visit USABASE.org.