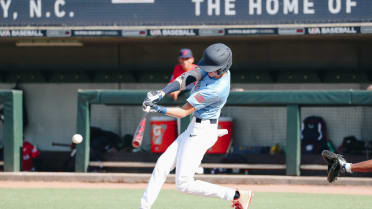 ABOUT THE ATHLETE DEVELOPMENT PROGRAM
2023 DATES: August 3-6, 2023
USA Baseball will invite 50 of the top 13-and-under and 14-and-under athletes to North Carolina, for a highly developed four-day on- and off-field national team-level instruction and education program. Invitations will come from the 12U and 13U National Team Identification Series (NTIS) and the Arizona and North Carolina National Team Championships.
The Athlete Development Program (ADP) will feature advanced on-field skills development with positional and team fundamental drills, and ongoing evaluation by USA Baseball national team coaches. Over the course of the program, athletes will be placed on a Stars or Stripes team and face-off in intrasquad games to practically implement the instruction provided during training.
USA Baseball will also provide an off-field component for the athletes that will focus on education regarding the NCAA and the recruiting process, umpire interaction, nutrition and wellness guidance, strength and conditioning education, media training, and character and leadership development.