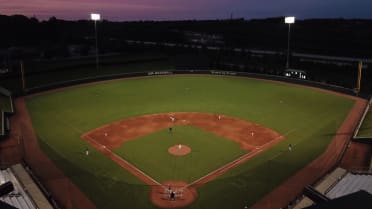 FAN GUIDE: NATIONAL TEAM IDENTIFICATION SERIES
All information below is subject to change.
EVENT OVERVIEW:
The 2021 USA Baseball National Team Identification Series (NTIS) is the most comprehensive player identification program offered by Team USA. Players from across the country will participate in selection events and tryouts on the regional level with the aim of ultimately being named to their All-Regional team. Those regional teams will then compete in their respective age groups against the five other regions from across the country at the culminating National Team Identification Series Champions Cup event at the USA Baseball National Training Complex in Cary, North Carolina.
The program includes six separate age groups - 11U, 12U 13U, 14U, 15U, and 16U. From the final NTIS event, USA Baseball will invite a minimum of 72 players to future National Team Trials and National Team Development Program (NTDP) opportunities with the ultimate goal of being selected to represent our country as a part of Team USA in 2022.
CHECK-IN AND REGISTRATION:
Player check-in and the Champions Cup Opening Ceremony will take place at the National Training Complex on the first day of the event (Wednesday). Gates will open at 4pm and participants and families are welcome to attend the Team Store and enjoy dinner from several local food trucks.
Player check-in will begin at 5:30pm; each region will have a designated table for players to receive their event gear.
The Opening Ceremony will begin at 6:45pm.
SCHEDULE:
Please click here to view the event schedule:
11U Champions Cup Game Schedule
12U Champions Cup Game Schedule
13U Champions Cup Game Schedule
14U Champions Cup Game Schedule
15 & 16U Champions Cup Game Schedule
Testing Day Schedule:
11U/14U Testing Day Schedule
12U/13U Testing Day Schedule
15U/16U Testing Day Schedule
Schedule Updates:
For schedule updates, changes due to inclement weather and general event information please follow USA Baseball on Twitter @USABEvents.
MEDIA AND PRESS:
If you are an accredited member of the press and wish to obtain a USA Baseball media credential, please visit the USA Baseball Media Services page.
Social Media:
Keep up to date on USA Baseball via social media on Facebook, Instagram and Twitter. The official Twitter handle for the NTIS is @USABEvents.
Streamed Games:
USA Baseball will stream all games of the Champions Cup at the National Training Complex on PlaySight (Coleman Field) or on its YouTube channel: @USABaseballTV (Fields 2-4). Please visit USABaseball.com for complete schedule and streaming information. Visit the National Training Complex Streaming page to follow along.
Event Photos:
Official team or event photos will be available for purchase on www.USABaseballPhotos.com. To access your team gallery, use the password: ntis (case sensitive)
Cameras & Video Equipment:
USA Baseball has adopted the following policy regarding camera lenses (including telephoto and zoom lenses) for any of the organization's events at the National Team Championships: Spectators are not permitted to bring telephoto or zoom camera lenses into the National Training Complex. Cameras may be brought in to the facility so long as they are not accompanied by these types of lenses. Only USA Baseball personnel and credentialed members of the media are permitted to have possession of telephoto and zoom lenses.
This policy is in place to ensure that all of our players, coaches and fans have a positive experience at our events.
TICKETS:
General Ticket Info:
There are no advance ticket sales for the National Team Identification Series. Tickets can be purchased on-site, at the gate. Only electronic payments will be accepted in 2021. All major credit cards are accepted: Visa, Master Card, American Express and Discover Card.
Ticket Prices:
Daily Pass: $10 Tournament Pass: $30 Kids under 12: Free
As official event participants, players and staff members listed on the team roster will be credentialed for the event upon their arrival to Cary.
Re-Entry Policy:
Fans can re-enter the National Training Complex by showing their daily pass wristband or tournament pass.
EVENT INFORMATION:
Rules:
To review the tournament rules and pitching guidelines for the 2021 NTIS Champions Cup, please click on the links below:
Rosters:
To view the rosters for each age group of the 2021 NTIS Champions Cup, please click on the links below:
15U/16U Champions Cup Rosters
12U/13U Champions Cup Rosters
11U/14U Champions Cup Rosters
Merchandise:
Officially licensed USA Baseball merchandise will be available during the entire event at the USA Baseball Team Store at the National Training Complex. To ensure the health and safety of all event participants, fans, and staff, there will be a 20-person limit within the Team Store at all times throughout 2021. Face coverings will also be required to enter and shop in the Team Store. For additional Team USA merchandise, please check out the official online shop at USABaseballShop.com.
Only electronic payments will be accepted at the Team Store in 2021. All major credit cards are accepted: Visa, Master Card, American Express and Discover Card.
Event Program:
The official 2021 NTIS Champions Cup program is produced by USA Baseball and will be available online at USABaseball.com at no cost to fans.
2021 National Team Identification Series Program
Photos:
Official team or event photos will be available for purchase on USABaseballPhotos.com. Participants will receive a password via email to gain access to the event album.
Facility Information
USA Baseball National Training Complex (NTC)
200 Brooks Park Lane
Cary, NC 27519
Google Map
General Directions
Thomas Brooks Park
9008 Green Level Church Rd.
Cary, NC 27519
Google Map
General Directions
GPS Address:
7445 Green Hope School Road; Cary, NC 27519
Specific directions from team hotels to the National Training Complex will be available at hotel information tables.
Please be advised that I-540 is a toll road. There are no toll booths, all tolls are taken electronically and will be billed via mail. If driving a rental vehicle, please inquire about the specific rental company's toll billing procedure.
Thomas Brooks Park
9008 Green Level Church Rd.
Cary, NC 27519
Google Map
General Directions
Durham Bulls Athletic Park (DBAP)
409 Blackwell St.
Durham, NC 27701
Google Map
General Directions
Middle Creek High School
151 Middle Creek Park Ave.
Apex, NC 27539
Google Map
General Directions
Government-Mandated Guidelines
USA Baseball will follow all current federal, state and local government-mandated guidelines regarding COVID-19 with relation to the location of the facilities hosting its events. Guidelines may differ or change from one USA Baseball event to another due to location or timing.
Social Distancing
USA Baseball encourages all participants and guests to practice social distancing, also referred to as "physical distancing." USA Baseball adheres to the CDC guidelines and protocols regarding social distancing, which means keeping space between yourself and other people outside of your home.
According to the CDC, in order to practice social or physical distancing, stay at least six (6) feet (about two arms' length) from other people.
Face Coverings
Spectators and guests are strongly encouraged to wear a cloth face covering that covers both the nose and mouth while attending USA Baseball events. Face coverings will be required in enclosed areas. Spectators and guests should also avoid touching their face and face covering.
Parking:
There is no cost for parking at the National Training Complex.
Local Information:
Information tables with local area guides and directions will be available at team hotels.
Prohibited Actions & Items at the National Training Complex:
The following are prohibited in the USA Baseball National Training Complex:
Outside food, beverage and coolers
Smoking
Animals except for service animals
Alcoholic beverages
Weapons
Skateboards, rollerblades and scooters
Umbrellas are limited to grass seating
Tents
Smoking Policy at the National Training Complex:
The National Training Complex is a smoke-free facility. Smoking is permitted in the parking lot, outside the National Training Complex gates.
Outside Food and Beverage:
No outside food, beverage or coolers will be permitted.
Foul Balls:
Please be aware of foul balls at all times while at the National Training Complex. USA Baseball will be offering a pack of baseball cards from Panini in exchange for each foul ball returned to the USA Baseball Team Store.
ATM:
There is no ATM on-site at the National Training Complex.
Wireless Internet Access:
There is no wireless internet access available on-site at the National Training Complex.
Bag Search:
All bags are subject to a bag search upon entering the National Training Complex.
Concessions:
Concessions will be open for the duration of the event.
Lost and Found:
Please check the USA Baseball Team Store or the on-site Town of Cary offices (located inside the First Aid building, on the 1st base side of the Stadium Field) for any lost items.
First-Aid:
A certified athletic trainer will be on site through the entire event. In case of emergency, the closest hospital is Wake Med Cary.
Wake Med Cary
1900 Kildaire Farm Road
Cary, NC 27518
919-350-2300
Google Map
ADDITIONAL USA BASEBALL INFORMATION:
| | |
| --- | --- |
| | Diamond Kinetics' sensor-based technology and mobile apps help players track their performance, develop their skills, and have more fun playing the game. DK's SwingTracker Bat Sensor and PitchTracker Smart Baseball are used by USA Baseball for player evaluation and development in both the Prospect Development Pipeline and across its family of national teams. |
RESTAURANT SPONSORS:
---
Back to top
EDUCATION:
Pitch Smart:
Major League Baseball and USA Baseball have teamed up to help young players reduce arm injuries through Pitch Smart, a comprehensive resource for safe pitching practices. Pitch Smart offers a series of practical, age-appropriate guidelines to help players, parents and coaches avoid overuse injuries and foster long, healthy careers. The guidelines were developed as MLB and USA Baseball collaboratively pooled the recommendations of many leading medical authorities in the sport in conjunction with baseball officials.
PitchSmart.org serves as the program's online home and is accessible via MLB.com and USABaseball.com. The site offers pitch count and rest recommendations, statistics on Tommy John surgery, risk factors, awareness tips, published research and videos from experts, including Dr. James Andrews and USA Baseball's medical safety committee chairman, Dr. Glenn Fleisig. USA Baseball is fully compliant with the Pitch Smart program.
For more information about the Pitch Smart program, take the free introduction to Pitch Smart online course hosted by Hall of Fame Major League pitcher, John Smoltz, at USABDevelops.com.
Coach and Parent Education Resources:
As the national governing body for baseball in the United States, USA Baseball is proud to provide educational resources to all constituents within the game. The following outlines some of the programs available to parents, players, coaches and umpires. All USA Baseball Develops initiatives are free to all users and can be found at USABDevelops.com.
USA Baseball Online Education Courses - The free USA Baseball Online Education Courses emphasize a culture of development, safety and fun within the sport through online training courses and programs focused for players, parents, coaches, and umpires. Content is offered in both English and Spanish.
USA Baseball Mobile Coach App - Free to all users, the Mobile Coach App features the ability for baseball coaches at all levels to plan practices using drills supplied in the application through the practice planning function. The application is available through the Apple and Android application stores.
Long-Term Athlete Development Plan - Developed by USA Baseball with support from Major League Baseball, the Long-Term Athlete Development Plan (LTAD) provides a multi-stage developmental pathway for an individual's life-long experience within the sport of baseball in the United States.
USA Baseball Coaches Certification - Coaches Certification is an educational program for any and all individuals who are currently coaching baseball or aspire to coach at any level of the game. The program aims to create a higher standard of coaching education and enhance the ability of coaches to better serve their athletes, their team and the communities. Coaches Certification is for all members of the baseball coaching community, regardless of age, level, or experience.
High School Baseball Manual - The High School Baseball Program Manual aims to support the thousands of dedicated high school coaches around the country, in their quest to provide a positive, development-based experience to their student-athletes. While some sections of this manual may be more relevant to some coaches than others, taken as a whole, the information should serve as a blueprint for building a productive environment for the student-athlete, and a call to action for coaches everywhere to work towards the optimization of the high school baseball experience.
These resources and many more can be found at USABDevelops.com.
NFHS Coaching Baseball Course:
In partnership with the National Federation of State High School Associations (NFHS), USA Baseball developed "Coaching Baseball" as another educational resource for baseball coaches. The course is available online through the NFHS platform at www.nfhslearn.com and is a great resource for coaches to improve their skills. In addition to "Coaching Baseball," USA Baseball would also like to recommend several other NFHS resources for coaches and fans. "Heat Illness Prevention", "Creating a Safe and Respectful Environment", "Positive Sports Parenting" and "Sportsmanship" are courses that can assist in creating a positive environment for your team at USA Baseball events and beyond. All of these courses can be found at www.nfhslearn.com.
BASE:
In February of 2018, Senate Bill 534 was implemented. This bill amends the Victims of Child Abuse Act of 1990 to extend the duty to report suspected child abuse, including sexual abuse, to certain adults who are authorized to interact with minor or amateur athletes at a facility under the jurisdiction of a national governing body. This bill also amends the Amateur Sports Act of 1978 to authorize national governing bodies to develop training, practices, policies, and procedures to prevent the abuse of minor or amateur athletes.
In response to Senate Bill 534, USA Baseball has developed the BASE (Baseball Athlete Safety Education) initiative. BASE is USA Baseball's zero-tolerance policy for abuse of any kind in baseball. It is comprised of four areas - reporting, background checks, education and training, and minor athlete safety policies. This initiative ultimately seeks to eliminate all forms of abuse and misconduct in our sport.
All Adult Participants at USA Baseball events are required to undergo a background check, complete a U.S. Center for SafeSport course or an Abuse Awareness course, and sign the Minor Athlete Abuse Prevention Policies (MAAPPs). Adult Participants and other event participants who fail to complete or pass any of these requirements will not be permitted the to participate in a USA Baseball event.
Athlete Safety Requirements
Background Check
Standard, Comprehensive or Medical Professional background checks through USA Baseball's national service provider, JD Palatine, are required depending on the participant's involvement with minor athletes and type of event.
For more information regarding background checks, click here.
Online Abuse Awareness Training
All Adult Participants of USA Baseball are required by law to complete the U.S. Center for SafeSport Trained course, or one of the SafeSport Refresher courses if they have previously completed the SafeSport Trained course.
All other event participants who are not Adult Participants of USA Baseball must complete the Abuse Awareness for Adults course.
To view the courses, click here.
To view parent and athlete U.S. Center for SafeSport resources and courses, click here.
Minor Athlete Abuse Prevention Policies (MAAPPs)
All Adult Participants of USA Baseball are required to read and sign the MAAPPs.
The MAAPPs outline, in detail, acceptable and prohibited interactions between Adult Participants and Minor Athletes.
All one-on-one interactions between an Adult Participant and Minor Athlete MUST be observable and interruptible.
To read the MAAPPs, click here.
Ineligible List
In addition to background checks and training, USA Baseball publishes a list of banned and suspended individuals from USA Baseball sponsored or sanctioned activities based on being accused, indicted, arrested or convicted of any crimes sexual or violent in nature on our website. The Ineligible List can be found here.
Report Abuse
By law, everyone is a mandatory reporter. If you have experienced abuse or misconduct, or know of abuse or misconduct that has taken place at a USA Baseball event, please report the incident to any of the USA Baseball representatives listed below, or click here to report via USA Baseball's Online Reporting Form (this can be done anonymously).
Paul Seiler
Executive Director/CEO
[email protected]
(919) 474-8721 x213
Lauren Rhyne
Senior Director, Athlete Safety & Education
[email protected]
(919) 474-8721 x242
Lisa Braxton
Assistant Director, Athlete Safety
[email protected]
(919)-474-8721 x243
Or any USA Baseball Staff member you feel comfortable with.
For more information on BASE, please visit USABASE.org.